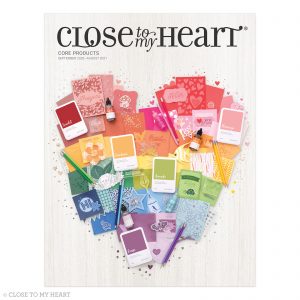 Close To My Heart is a direct sales company that offers a wide array of papercrafting products, with special emphasis on scrapbooking and stamping. For more than 35 years, founder and CEO Jeanette Lynton has been a leader in the industry, making many significant contributions to these arts, and making Close To My Heart a premier resource for individuals wishing to enhance their artistic talents and pursue a successful business opportunity. Close To My Heart's Makers enjoy a generous compensation plan, which rewards them for promoting our innovative and beautiful products to help every crafter celebrate relationships, share memories, and preserve the moments that matter most.
Signing up as a Maker costs just $50 plus tax. When you sign up, you will receive $25 in CTMH Cash to use for ordering your own start-up products. You'll also be able to order a FREE Business Basics Bundle containing a variety of business supplies to help you get your business started.
An annual renewal fee of $25 will be charged each year that you remain a Close To My Heart Maker. This fee helps offset costs related to operating the business, such as credit card processing fees, website maintenance fees, and others.
Consultants receive a minimum base commission of 25%, which can increase up to 45%%, depending on monthly sales totals. Makers can also earn product credit and other great rewards based on their orders and other performance benchmarks. When you decide to build a Team, your earning potential is even greater!
You are immediately eligible for the Start with heart Program, with the chance to earn exclusive products
in your first 45 days. There are three levels in the program, with rewards given at each level based on your personal sales.
If you reach all three levels by the deadline dates, you will receive the following free products: a bundle of 5 shimmer brushes, a bundle of cardstock containing one sheet of
all of our current colors, and a collection of Workspace Wonder™ products!

To remain an active Maker you must submit a minimum of $300 in sales per calendar quarter. If you sign up partway through a quarter, you are not required to meet the sales requirements during that quarter. The first quarter you would be required to meet the minimum sales requirements in would be the next full quarter after you sign up.
Our calendar quarters are a period of three consecutive months, beginning in January. There are four quarters per year, as follows:
Quarter 1: January–March, Quarter 2: April–June, Quarter 3: July–September, Quarter 4: October–December.
You have the opportunity to build any size of business you choose, but you don't have to. Many Makers buy the products at a discount for their personal use. You are welcome to simply enjoy the discount, or choose to earn income by selling to friends and family. Or you can plan to build a business where you are your own boss and earn a great income. It's completely up to you!  We recommend ordering products as you and your customers need them, rather than investing lots of money upfront. This means you can begin a home-based business for very little start-up cost! It's one of the most affordable business models in the world.
Close To My Heart offers all the training you will need! The following resources will be at your fingertips:
Business videos to teach you what you need to know
Product videos to keep you updated on all the latest products
Training courses to teach you how to run your business
Maker Facebook groups for artwork inspiration and community building
Free, pre-designed projects and workshops you can use to create beautiful layouts and cards
Between the Home Office resources, your Team's resources, and our incredible community of Makers, you will always find the help you need.
Every Maker is given a personal website at no additional charge! This is a professionally designed and maintained e-commerce site that is a terrific benefit of being a Maker with Close To My Heart. Your friends and customers can place orders through your website 24 hours a day, and their orders will be shipped directly to their home. And the best news is that you earn a commission on these orders. It's that easy!
On orders placed through your Maker Website, customers can use Visa, MasterCard, or Discover to pay for their orders. There is no charge for you to accept these payment forms. Additionally, you can accept these same credit cards as payment for orders you enter through our normal Order Entry system. No processing fees are passed on to you.
To sign up It's quick and easy—it takes less than five minutes. Visit the "Join Our Maker Family!" page, or follow the "Let's get started" link below.
For most new Makers, the approval process will be instantaneous, but if you have previously been a Close To My Heart Maker, the approval process may take a few days. You will receive an email notification as soon as your application is processed.
Close To My Heart accepts Visa, MasterCard, or Discover. Our website is secure and encrypted to keep your private data safe.