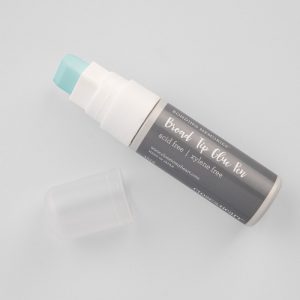 When looking for glue options for your scrapbook you have a plethora of options, it is easy to get confused or frustrated when trying to decide the best ones to choose. I said the best ones because there are different glue types for different purposes. When working with paper, you have to be careful with a liquid glue as it will warp the paper if too much is used.
A lot of times, a newbie to scrapbooking with grab glue sticks. The problem with glue sticks is that they don't stay stuck! They are great for a kindergarten art class but for something that is going to withstand time and motion you need to use stronger, more effective adhesives.
If I am putting together a scrapbook page, I will use Close to my Heart's Bonding Memories Glue. I like that I can stick what I am gluing straight down if I want it permanent, or wait a few seconds until the blue turns clear and have a repositionable adhesive. I hate things crooked, so having that option really helps. The nice thing here is even if I put something down as permanent, I can usually get it back up quickly if I haven't pressed it thoroughly down. Just don't pull it off, you will certainly tear your paper backing and curl it as well. Use a craft spatula with a beveled edge, or even dental floss to help loosen it first.
The Broad Tip Glue Pen is great for gluing your base layout pieces as well as your photos. When you apply it, the liquid is blue. If you want to have your glue be permanent, put together your page now, if you want your glue to be repositionable  (I always do this for photos) then let it dry to a clear, then attach.
Liquid Glass is a good option for a strong adhesive but requires you to hold parts together until they begin to dry. Another use for Liquid Glass is for use adding to accents or images for a glossy, glaze-like effect. There is even a fine tip applicator for those tiny sized needs.
Dual-Tip Multi-bond Glue Pen creates both permanent ( when used while wet) and removable bonds   (when used after it dries).  This glue goes on white but then dries clear.
Dual-tip Permanent Glue Pen is similar to the above mentioned multi-bond glue, but this is permanent, goes on clear and dries clear.
Adhesive Tape Runner is a permanent adhesive dot runner.  These don't give you any chance to straighten your work if you laid something down incorrectly.
3-D Foam Dots for all your layering needs. You get two sizes in each package.  Sometimes I will layer them on top of each other to get more depth to a page. We also have 3-D tape, you just cut the size you want and is thicker than the dots.
And no discussion on adhesives without glue dots. They come in many sizes and thicknesses. "When I first started scrapbooking someone called the clear glue dots "glue buggers" because when they are rolled up on your finger it looks just like them.  We have all seen them used… remember when you received your last debit card and how it was stuck to the page? Yep…  I use these to attach small embellishments to the page.
The only adhesive I have left out is the red tape. It is an EXTREMELY sticky, double-sided tape. I only use something like this with micro-beads or when I make cardboard covers for my albums.
Leave a comment below and tell me about your favorite adhesive and why. You might even win a Bonding Memories Glue Pen from me!