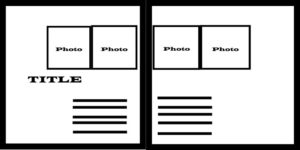 It's Motivational Monday! I want to get your week started with a scrapbook sketch for four photos. You can add more since there is room in the sketch.  This sketch allows for flexibility; where your title goes and where your journaling is placed depending on how many photos it takes to tell your story. Just remember you want to balance out both pages. This means don't add something on one side that doesn't have something on the other page. It doesn't have to be the same type of item, but putting something on both sides will give your page an balanced look.
I hope this post helps to get your mojo going.
Send me a picture of your completed scrapbook sketch for four photos or more and I will post it here. I offer a monthly drawing. Everyone who sends me a photo of their scrapbook page is entered to win a free stamp set from me.